7 Uses for a Culinary Torch

Jul 13,2018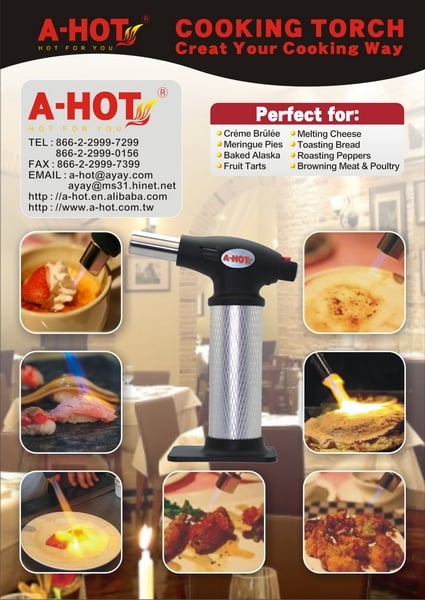 7 Uses for a Culinary Torch
The presence of a culinary torch in a kitchen is the sign of a truly accomplished home cook. It's a must-have for making perfect Crème Brulee, but it can also be used for so much more if you think outside the box. Use it in place of a toaster oven or broiler to melt cheese or brown foods: this list should kick off your imagination.

1. Brulee the sugar on a crème Brulee. Sprinkle an even layer of sugar on the top of a ramekin of chilled crème Brulee custard. Working back and forth the culinary torch to melt the sugar until it melts and turns pale amber. It will set in a glossy, crisp crust.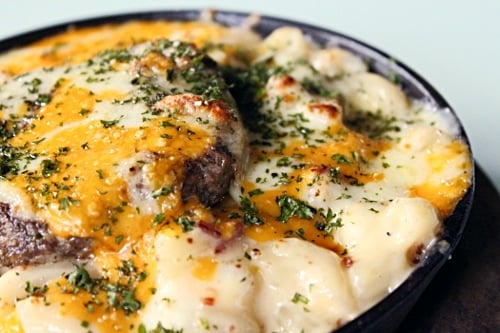 2.Brown the topping on mac and cheese. If you don't have time to make macaroni and cheese in the oven, you can still fake the crispy, oven-baked crust with a culinary torch.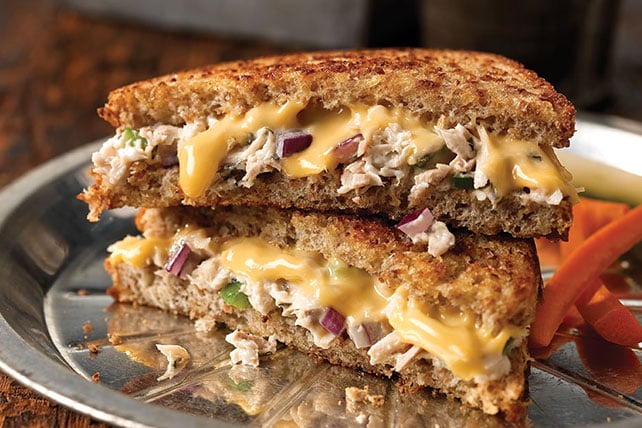 3. Make a tuna melt or patty melt. If you don't have a toaster oven and don't want to turn on the broiler of your oven, you can still make a tuna melt. Assemble the melt, then use the culinary torch to melt the cheese on top until it bubbles. Hold it a little further away until the cheese melts, then bring it in closer to make the cheese brown and bubble.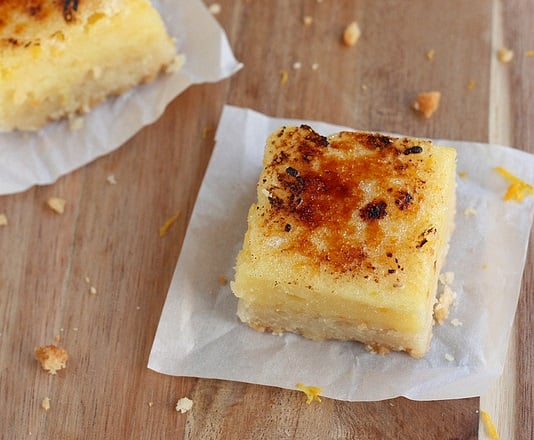 4. Lemon bars are such an underrated dessert, especially when they have a cool crème brûlée finish like these do. They\'re also pretty simple to make, with an easy butter-sugar-flour crust (again, some healthy swaps could definitely be used here) and a lemon-zest-filled center. Once they\'re finished, sprinkle with sugar and use culinary torch to torch till golden brown.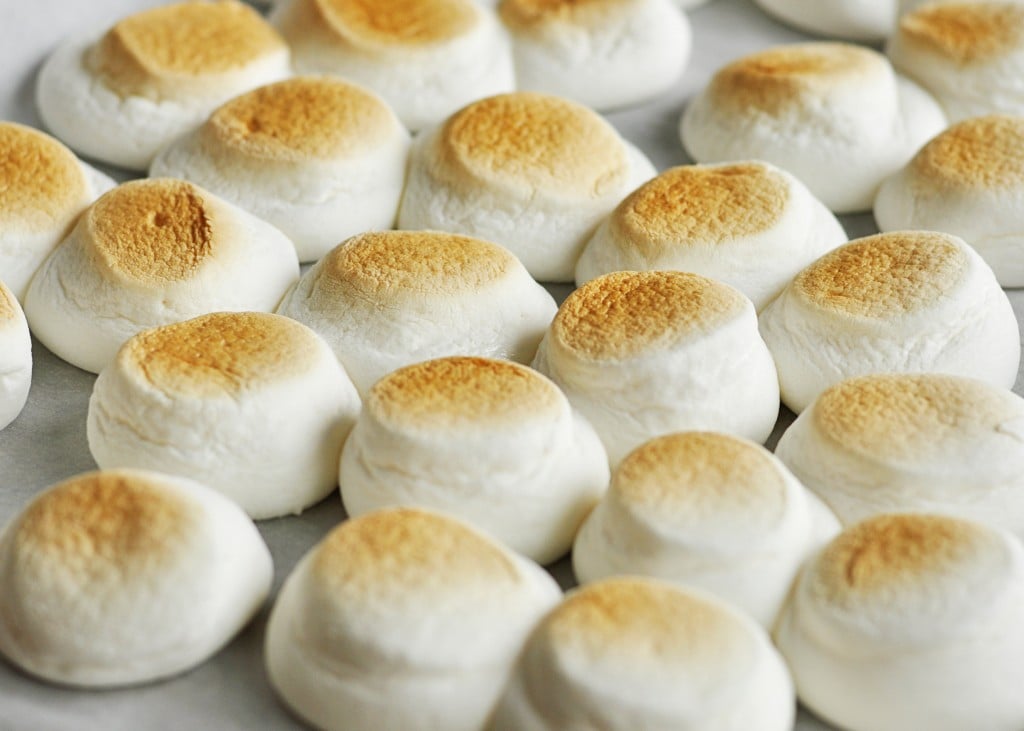 5. Toast marshmallows for s'mores. If campfire season is way too far away, use a culinary torch to make some indoor s'mores. Have graham crackers and pieces of milk chocolate bars ready. Spear a marshmallow on a metal skewer and use the culinary torch to brown it evenly, beginning with the culinary torch further away so that it has a chance to heat through without getting burnt, then bringing the flame closer to finish the browning. Immediately transfer the marshmallow to a chocolate-topped piece of graham cracker, using another graham cracker to scrape the marshmallow off the skewer, topping it with the cracker.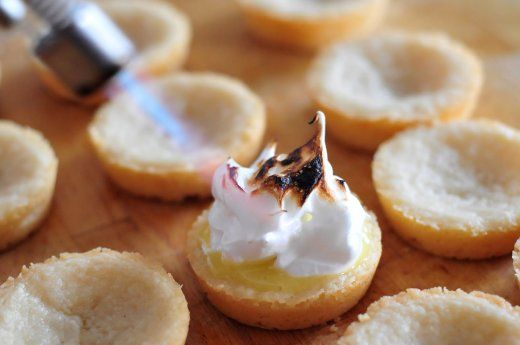 6. Brown meringue. A culinary torch will perfectly caramelize the peaks of the meringue topping on lemon meringue pie or baked Alaska. When you've topped your dessert with the meringue, simply work the flame of a culinary torch lightly over the topping until it is lightly browned.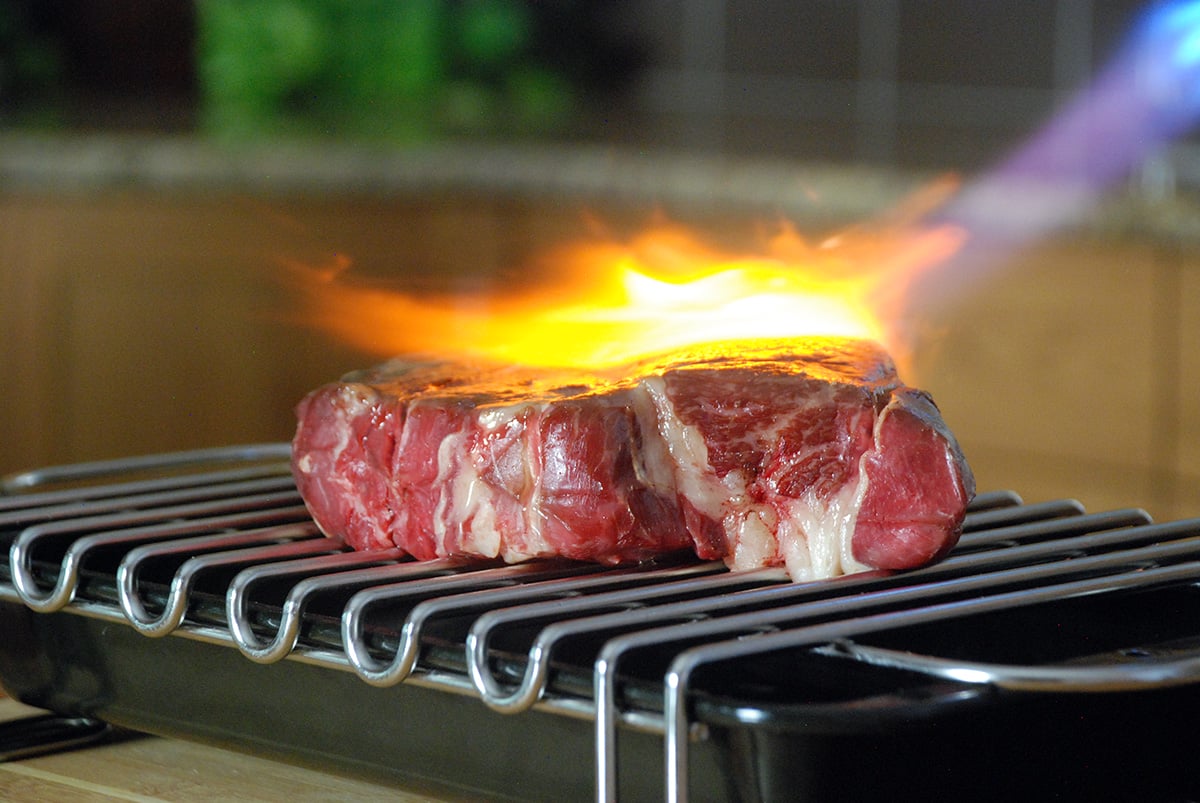 7. Torch meat and fish prior to baking. If you are baking a meat or fish dish, you can try torching it prior to putting it in the oven. Lightly torch the surface to give it a bit of a crisp outside. Then, put it in the oven following your normal recipe.
The culinary torch supplier is one of the best culinary torches we've ever reviewed. It's safe and easy to use, even for beginners.
9F., No.637-1, Sec. 5, Chongxin Rd., Sanchong Dist.,
New Taipei City 24158, Taiwan
TEL: 886-2-2999-7299 FAX: 886-2-2999-7339
E-mail: a-hot@ayay.com; ayay@ms31.hinet.net
Official website: http://www.a-hot.com.tw
YouTube: https://www.youtube.com/channel/UCU2nEMRTEvagOLliU3Mq4kQ/videos
Facebook: https://www.facebook.com/a.hot.hot.for.you/
Instagram: https://www.instagram.com/ahot.tw